Description
Highlight
4 pcs/ set (for 3 rows)
An innovative, stylish, high-end and extremely durable product
Customization, Well-Tailored that suits your car models
Black Color with RED Stitching
Anti-Slip
Anti-Bacterial
No smell, non toxic and inodorous
Waterproof, Dustproof ,Flameproof, Skidproof
Easy Clean
The safest car floor mat , cover perfectly
One step making , easy to clean by towel, nice and comfortable ,always keep your car clean
EMANON-J Ethylene Vinyl Acetate (EVA) Custom Made Anti-Slip Odor-Free Anti-Bacterial Car Floor Carpet Mat
| | |
| --- | --- |
| PRODUCT: | EMANON-J EVA Customized Car Floor Mat / Carpet |
| MATERIAL: | ETHYLENE VINYL ACETATE (EVA) |
| BRAND: | EMANON-J |
| COLOR | BLACK COLOR WITH RED STITCHING |
PRODUCT DETAILS: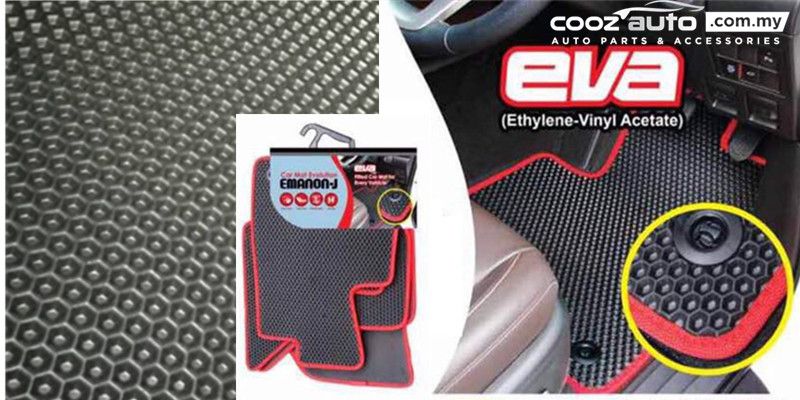 Product Description
EMANON-J floor mats will make your car look more luxurious, giving it a customized, elegant, tailor-made look. The specially treated EVA material, manufactured with a patented process, is completely waterproof and can be cleaned with simply soap and water. The mats are highly durable, resist scuffing, and impermeable to salt or dirt.
Its anti-slip property preents slipage of the mat during driving where as its waterproof technology ensures trapping of liquid in case of spilage.
Anti Bacterial - EMANON-J are free of any germ. Anti-microbial technology are applied, no need to worry about bacteria or fungi.
Feature & Benefits
An innovative, stylish, high-end and extremely durable product
Customization, Well-Tailored that suits your car models
Black Color with RED Stitching
Anti-Slip
Anti-Bacterial
No smell, non toxic and inodorous
Waterproof, Dustproof ,Flameproof, Skidproof
Easy Clean
The safest car floor mat , cover perfectly and 4pc/set (for 3 rows)
One step making , easy to clean by towel, nice and comfortable ,always keep your car clean
INSTALLATION:

Reviews (0)
view all
back
What's in the box
1SET X Floor Mat / Carpet